As a comic book fan, I enjoy the visual art work of the comic when I was a boy. That I owe to my mother when she bought me a copy of
The Death of Superman
and the magic of reading comics had stuck with me ever since.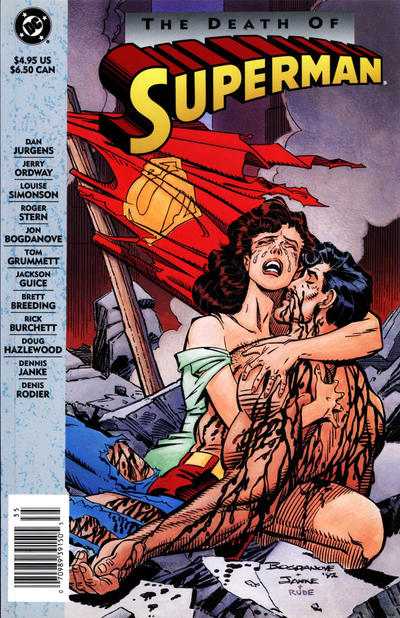 I grew up not realizing their literary merits as I collected them throughout my youth. On the other hand, my vocabulary had increased as I read them by the dozen. Through them I learned about various real life elements such as AIDS, addiction, and racism. In my opinion, comics are a part of literature because they teach reading and expand the minds of readers.
Another aspect I wanted to touch on are the myths surrounding comics and one of them being "just for boys." For me comics can be for girls as well and they can share the magic of reading them with boys and they can bring together people of all races.
*In a research poll I conducted, one person said that comics have become an ever evolving medium the last fifty years, moving towards stories about the complex relationships and conflicts rather than the "powers" the characters have. Another statement pointed out it depends on the comic. Prolific titles and some comic books that pander cliches and tropes to intended audiences. Poll results are 92 percent agree with comics being a part of literature to 8 percent of those who disagree.
*Also recognition from respectable outlets as the National Book Foundation, Time Magazine, Booklist and Publishers Weekly have proven the merit of comics and graphics novels as a literary form. In 1982, Watchmen by Alan Moore and David Gibbons won the Hugo Award (Other forms category). Next in line was Art Spiegelman winning the Pulitzer Prize for Maus in 1992 and mainstream acceptance comics and graphic novels has grown.
*According to an article by Christopher Murray, they have achieved a hard-fought for degree of critical respectability since the "graphic novel" boom of the mid-1980's. Maus, Fun House, and Palestine have been recognized as works of art and literature, and in recent years they have crept into university reading lists worldwide, and across a range of disciplines, from literature courses to history and media studies. Dundee University's master programme in comics studies combines the academic study of comics with practical assessments, allowing students to create comics as well as research them. Claims such as universities are "dumbing down" in order to recruit more widely and comics being "just for kids" stand in the way.
The value in comics have been undervalued for so long, it's easy to write them off as "just for kids." But let's not forget the bright minds in comics like Will Eisner and Dwayne McDuffie who have made their stamp in the field telling stories about the world around us through visual story telling that touched the lives of anyone who picked up a comic book. For me, it's not just a book with cool art work it's one of the greatest works of literary art in history.
*Christopher Murray "Comics studies has been undervalued for too long: We're fighting to Change that." The Guardian.com Feb. 2015